This post is in Swedish, but the same information is available in English on the last page of this PDF from Sportident.
Om man har bytt batteri i en Sportident-enhet så är det en bra idé att tala om för enheten att det nu sitter ett nytt batteri med full kapacitet i enheten så att den kan försöka hålla reda på hur mycket kapacitet som återstår. Som bekant så använder man programmet  SPORTident Config+ för att programmera SI-enheter, ställa tiden, uppdatera firmware mm, men tyvärr så kan man i vanliga fall inte komma åt funktionen för att ställa om batteristatusen. Kanske anser Sportident att funktionen är för riskabel att ha allmänt tillgänglig, men det går ganska lätt att slå på den. Så här gör man:
Högerklicka på genvägen till SPORTident Confg+ på skrivbordet. Då dyker en meny upp som ser ut något i stil med detta: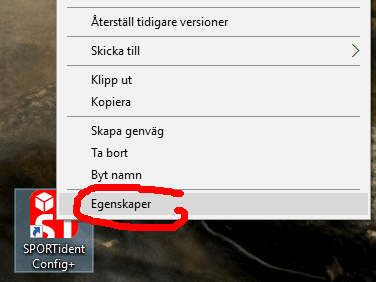 Välj alternativet "Egenskaper" längst ned. Nu dyker följande fönster upp: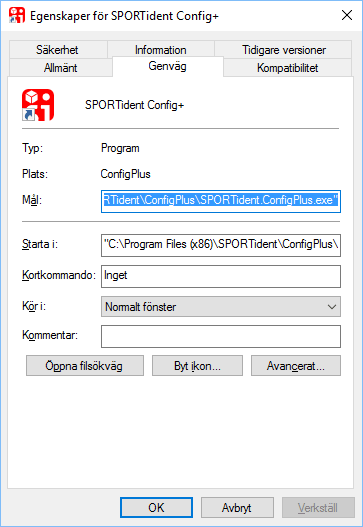 Tricket man behöver göra är att lägga till texten −−service sist i rutan "Mål:". Enklast görs detta på följande vis:
Tryck på pil höger så att den blåmarkerade texten avmarkeras och markören hamnar sist i rutan.
Tryck mellanslag.
Skriv in −−service (dvs två minustecken och sedan ordet service utan några mellanslag). Så här bör det se ut:
Tryck OK för att stänga rutan.
Om man nu startar SPORTident Config+ från den ändrade genvägen så finns plötsligt den nya menyn Service högst upp:
Om man väljer alternativet "New device battery" så får man upp följande: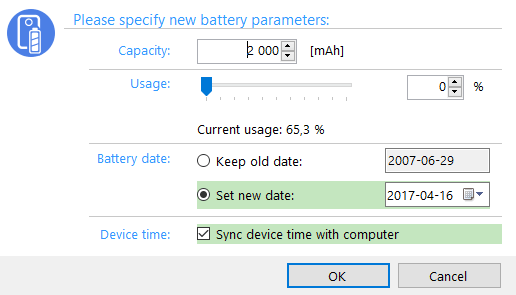 På en BSF8 med vanligt litet batteri (1/2 AA) så är det normalt 1000 mAh man ska mata in och om man precis satt in ett nytt batteri så ska såklart Usage stå på 0%. På en BSM7 (med sladd) med batteri i AA-storlek är det normalt 2000 mAh i batterikapacitet.
Mer information om andra saker att tänka på när man byter batteri finns i följande dokument från SportIdent: